TaskPaper
Demo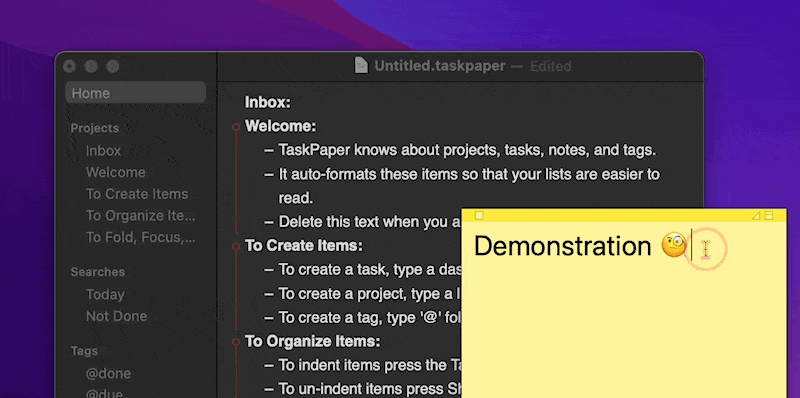 Readme
TaskPaper
Send the text to TaskPaper 3 ("Plain text to-do lists for Mac").
Download: TaskPaper.popclipextz
Description
The extension has one action, which takes the selected plain text and adds it as a new task in the Inbox project of the open TaskPaper document.
If no TaskPaper document is currently open, the extension will show an "X".
About
This is an extension for PopClip.
Author
Nick Moore
Acknowledgements
The JSX script used is based on the one posted by Jesse Grosjean at the Hog Bay Software forum.
Requirements
Requires PopClip 2022.5
Links
Changelog
5 May 2022
Updated for compatibility with macOS Monterey.
8 Oct 2019
Removed support for TaskPaper 2.
27 Jan 2017
Updated to add support for the version of Taskpaper that comes with Setapp.
20 May 2016
Updated to support TaskPaper 3. Required use of scripting interface because TP3 does not have the "send to inbox" service.
14 Nov 2012
Info
First published




Nov 14, 2012

Identifier


com.pilotmoon.popclip.extension.taskpaper