Demo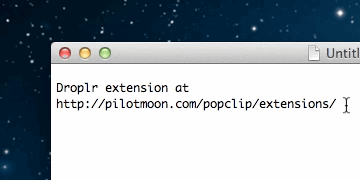 Readme
Droplr
Shorten the link using Droplr.
Download: Droplr.popclipextz
Description
The extension has one actions that shortens any URLs in the input plain text using Droplr.
Note: Droplr link shortening is only available on old Droplr accounts, or new accounts on Droplr's Enterprise plan.
About
This is an extension for PopClip.
Author
Nick Moore
Acknowledgements
Requirements
Requires PopClip 2022.5 and either an old Droplr account with grandfathered-in link shortening feature, or a Droplr Enterprise account.
Links
Changelog
1 Jun 2022
Tested and appears to work.
24 May 2022
New version in JavaScript (untested).
26 Feb 2013
Info
First published




Feb 26, 2013

Identifier


com.pilotmoon.popclip.extension.droplr